We at Bob Frank Plumbing, are committed to quality and professionalism.
Kitchen & Bath: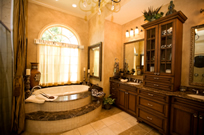 Repair and replacement of kitchen faucets, drainage leaks or stoppages, sinks, dishwashers, garbage disposals, water filtration, icemaker water lines, instant hot water tanks, and gas piping. Remodeling and relocations of existing fixtures. Repair and replacement of all styles of bathroom faucets, shower valves, toilets, tub or shower valves, fiberglass or cast iron tubs, and much more. We specialize in high efficiency plumbing fixtures, pressure assisted toilets, water efficient fixtures, shower heads, body sprays, hand showers.
Plumbing:
Plumbing Protection Plan- is designed for peace of mind. It not only minimizes costly emergencies and the related Designer Watches inconvenience and damage they can create, It allows you to make necessary repairs on your schedule and budget. We provide a inspection of your plumbing system and give you a written report with recommendations of any problems found. PPP members are comitting to be proactive in regards to thier plumbing system thereby minimizing emergencies. We are committing to our PPP members that we will provide them with preferrerd scheduling and after hours service should it be necessary.There are a number of other benefits included. Please contact us for more about our PPP.
Water Filtration systems - we specialize in high efficiency water filtration systems including whole house water softeners, point of use water filters and reverse osmosis water systems, acid neutralizers, iron filters, ultra violet light systems, metered water softeners. Clean water is more efficient and better for you and your family. Bob Frank Body Wave with Closure Plumbing can give you clean, clear water with excellent volume and pressure.
Water Heaters - Repair and replacement of tank type residential, gas and electric, best replica watches www.ubreitlingcheap.com water heaters. Installation of tank less water heaters. Circulation systems to provide hot water at your faucet instantly.
Gas Lines - Installation, repair and leak testing of indoor and outdoor gas piping. Gas piping for pools, spas, barbeques, and kitchen remodels.
Drain Lines - Clear drain line stoppages. Repair broken drainage piping.
Pumps - well pumps including submersible, constant pressure pumps systems, water pumps, sewage pumps, sump pumps, and pressure booster systems.
Heating - High efficiency hot water boilers, hydronic heating, radiant floor heating, baseboard heating, and radiators.
Outdoor Plumbing - hot and cold hose bibs, cold hose bibs, untreated water to hose bibs, yard hydrants, and frost-free hydrants and hose bibs.
We, at Bob Frank Plumbing, are:
Registered Master Plumbers,
Certified Water Quality Specialists,
Certified Installers of Rinnai Instantaneous Hot Water Heaters and Munchkin Heat Transfer Boilers,
Certified Member of the InSinkErator ProCircle,
Members of the Plumbing-Heating-Cooling Contractors - National Association (PHCC), America's oldest trade association,
And a Member of PHCC's Enhanced Service Group, the Quality Service Contractors (QSC) Omega Replique Montre .
Best Amazing Plumbing Chester County PA Coatesville West Chester Honey Brook Malvern Kennett Square Plumber Pipe Leak Drain Water Heater Pennsylvania Tudor Replique Montre South Eastern Pennsylvania Plumber Great Good Experienced Qualified Affordable Registered Master Plumber Specialist Water Treatment Conditioning Reasonable